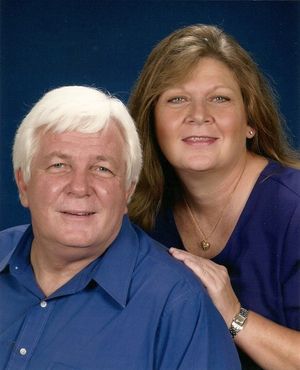 Welcome, Jesus is alive and He is Lord.
Well there you are, we've been waitin' on ya, come on in.    
I'm David W. Ives and the lady is my best friend, Laurie, who agreed to marry me back in 1999. 
In the forward to the Christian novel "General Paco's Tasty Texas Tacos," I wrote that she helps me with all my "spellin and punctation." You can imagine that includes a lot more than just crossing t's and dotting i's. 
Together we serve Jesus.  "He is Lord." We have visited some of your churches and rejoice with you in the miracles of His presence.  
Check out the Music page for CDs and downloads.  And the Book page for an inspired story or two illustrating truths of the life of God and lives that have changed.
On the cover of "Paco's Tasty Texas Tacos" it says "free for a smile, and a small fee." As Paco learned, often you have to pass the expense of business on. But we also have lots of free stuff.  Just to the right of this screen is a music player that has a couple of songs ready for you.
Also on the right, down a little further, next to the Facebook icon, you can click on the black button that looks like a chain to go to our Praisewind broadcast with weekly free music and an abbreviated Bible message. The orange button with three triangles takes you to CD-Baby which is the best way to download the music.
All proceeds from Praisewind Ministries are used to support efforts to help people turn their lives around. 
We wouldn't want you to go without a  song, or a bible lesson. All we ask is that you leave a comment. Pray a prayer for us. Like us on Facebook or YouTube. It's encouraging and helps spread the word. 
More than anything we pray that Jesus and all that He is be made real to you, to your friends and family. 
Thanks, and God Bless.